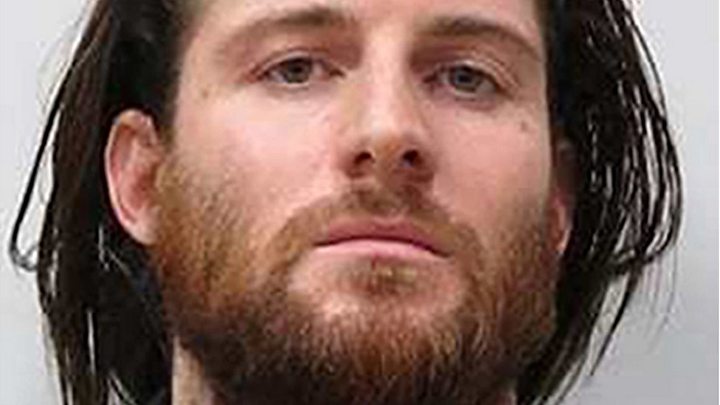 A killer once dubbed one of Britain's most wanted fugitives has been jailed for at least 26 years.
Shane O'Brien, 31, evaded police for three-and-a-half years after he slashed Josh Hanson's neck in Hillingdon, west London, on 11 October 2015.
He fled the UK, changed his appearance and moved around Europe before his extradition from Romania in April.
O'Brien, who jurors found guilty of murder last month, was given a life sentence at the Old Bailey.
CCTV released during the trial showed 21-year-old Mr Hanson clutching his neck and stumbling as blood poured out of a 37cm (14.5in) wound.
'Abrupt, vicious, violent'
After the killing, jurors heard, O'Brien was seen "calmly" walking out of the bar.
He made his way to Ashford, Kent, where a contact had chartered a private four-seater plane to take him to the Netherlands.
The killer grew a beard and long hair and changed his tattoos as he travelled through countries including Germany, Belgium and the Czech Republic, the court was told.
In 2017, the father-of-two was arrested over a dispute in a Prague nightclub but gave police a false name and fled while on bail.
The trial heard the 31-year-old was added to Europol and Interpol's most wanted lists but still managed to lay low.
However, he was eventually caught by Romanian authorities after he contacted Scotland Yard to arrange a possible meeting, the jury heard.
Sentencing the father-of-two, Judge Nigel Lickley QC called it "a grotesque, violent and totally unnecessary attack on an innocent man".
"The reason why you behaved in such a way may never be fully explained. You, however, know the reason," he said.
In a victim impact statement, Mr Hanson's mother Tracey described her son as being "considerate, kind and generous".
"He was taken from us in the most horrific way possible – suddenly, abruptly, viciously and violently," she said.
The victim's sister, Brooke, said the 21-year-old "was not just my brother, he was my best friend", and described his "infectious smile" and "magical presence".
She told the court she had suffered from anxiety and post-traumatic stress since the killing and found herself always wondering if she could have protected him from the "evil" that took him away.
During the trial, O'Brien had claimed he felt threatened by Mr Hanson's "very aggressive body language" and had only meant to scare his victim.
There were angry shouts of "coward" from the public gallery as he was led away from the dock.
emergency pest control tufnell park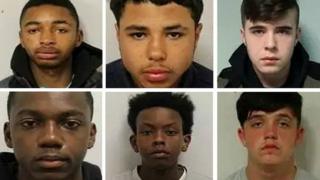 Six teenagers who murdered an 18-year-old just yards from his home have been jailed.
Lyndon Davis died in hospital hours after he was chased down and stabbed in an alleyway in Chadwell Heath, Romford, on 14 March.
The six youths, who were all under 18 at the time of the killing, denied murder but were found guilty after a trial in July.
Mr Davis' mother Aber Green said her son "did not stand a chance".
Brian O'Neill QC, prosecuting, said Mr Davis was targeted for his involvement with a rival gang.
Jordan Worrie, 18, of New North Road, Hainault, and Tyler Faubel, 18, of Robinia Close, Hainault, were jailed for 16 years.
Connor Corcoran, 18, and his 17-year-old brother Michael Corcoran, both of Huntsman Road, Hainault, and Jordan Muinglui, 18, of The Herons, Wanstead, were jailed for 14 years.
Ali Ali, 16, of Dalkeith Road, Ilford, was jailed for 11 years.
Sentencing at Woolwich Crown Court, Judge Andrew Lees said: "All six of you chased down and were involved in brutally murdering Lyndon Davis within yards of his home.
"His murder has caused lasting grief and trauma to his family."
Ms Green said "no-one should have taken him away".
"He was a funny boy and full of laughter. I know I will never know the whole story about what happened in that alley where he died," she added.
Muinglui, Worrie, Faubel and Connor Corcoran also received 18 month terms for possession of an offensive weapon.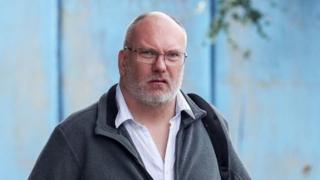 A sex offender who concealed a spy camera in the ladies' toilets at Pinewood Studios has been jailed.
Maintenance worker Peter Hartley, 50, planted a miniature motion-triggered camera behind a grill in the toilets at the studios in Iver Heath, Buckinghamshire.
The camera was spotted by a woman working on the new James Bond film in June, Aylesbury Crown Court heard.
Hartley, of Uxbridge, west London, was jailed for 16 months.
He will be on the sex offenders register for 10 years.
Hartley, who was working as a maintenance man, was caught after the worker noticed light reflecting from the lens similar "to light reflecting off the face of a watch" and used a screwdriver to take off the grill.
Prosecutor Daniel Wright told the court the device was marketed as a "spy camera" and Hartley had used a piece of tape to cover its LED light to try to stop it being detected.
Hartley, who has a history of similar offences dating back to 2008, contacted his public protection officer at the Met Police later that morning to tell him he had reoffended.
He has previous convictions for placing cameras in a council building in Coventry in 2009 and for placing one in the changing rooms of a leisure centre in 2016.
Hartley has a total of three convictions for eight offences.
He later pleaded guilty to one count of voyeurism at Milton Keynes Magistrates' Court.
In a victim impact statement, the young woman who found the camera said she had needed mental health treatment and had suffered from acute anxiety.
Jailing Hartley, Judge Francis Sheridan said the victim's life "has been devastated by a dirty-minded individual who preys on women.